Proudly Manufactured in the


Manufacturers of the very best pond sealant the industry has to offer! A "do-it-yourself" solution to stubborn pond leaks.
The Industry's ONLY one coat 5 year unconditional warranty! Fix/Repair Pond and Fountain Leaks ONCE with PondPro. Pond Pro as seen in Water Garden News and Pond Trade Magazine! Are you having difficulty finding that leak? Do your water levels keep dropping? With a 25 year history of success, our Liquid EPDM fixes pond leaks and fountain leaks the first time. Our one coat application also has a 5 year warranty! PondPro is a unique liquid version of EPDM and is identical in durability to EPDM pond liners sold in pond supply stores. Since it is 100% liquid EPDM it is 100% compatible with your existing EPDM pond liner. Safe for both fish and plant life as well as frogs tadpoles etc. Pond Pro can be applied directly on an existing EPDM, PVC or fiberglass liner without any primer! Our PondPro Concrete product is designed for ponds or fountains made out of non-porous concrete, brick or mortar. Pond Pro Concrete should also be used on any ponds or fountains where a 3rd party coating was applied over an epdm pond liner. For any deep pond, pool or fountain that sits on a grade or is constructed from non-porous material (this includes concrete, block, wood, etc.), you would use the Pond Pro Concrete. Concrete cinder block must be stuccoed to make it easier for the PondPro Concrete to adhere. Reflecting pools are another outstanding option for Pond Pro These are demanding applications where the unique properties of EPDM have a distinct advantage over other products. PondPro can be colored to any color you desire. You can customize the color by adding no more than three ounces per gallon of an universal colorant (Glycol Colorant for light colors and for medium to heavy colors use a solvent based colorant available at most paint stores). Colorant should be added BEFORE the catalyst is added.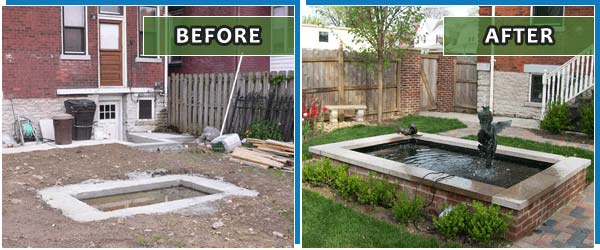 To give you an idea of just how durable of a product Pond Pro 2000 is, take a look at a few of its characteristics:
PondProwill withstand temperatures from -62° to 350° F
One coat application
No primer needed
Easy Application and a true do-it-yourself product
It has proven itself superior to acrylics, urethanes and other elastomers and lasts up to 3 times longer
UV and Ozone stable
Safe for fish and plant life
Can be applied over fiberglass
Can be applied over PVC
ANY other pond sealant that has failed (Use Pond Pro Concrete)
Can be applied over acrylic
Fix/Repair Pond Leaks with Pond Pro coatings
The choice of so many customers throughout the years. Simply put it is a one coat application and never the need for a primer. PondPro Unlike other pond sealants is 100% epdm rubber in liquid form and is guaranteed not to crack, peel or flake. It actually waterproofs immediately upon application! No other pond coating can stake that claim. Identical to your existing epdm pond liners; it is safe for your fish and plant life. Do it right the first time and save money with a one coat system. The success of PondPro comes from combining ethylene and propylene with a diene monomer. Pond coating by pondpro is safe for fish and plant life as well as chlorinated water. This polymer (when cross-linked) is an excellent moisture barrier and resistant to oxidation and UV degradation. Its most important property is its ability to tolerate both low as well as high temperatures from -62° to over 350°F. Are you wondering what surfaces PondPro can be applied to?
Chances are if you are on this website reading it is because you are not able to find the leak. Actually pinpointing the leak is an extremely difficult task. As pond liners wear and concrete begins cracking many customer experience multiple leaks, some experience leaks only under certain conditions. Any what is worse is draining out a pond and fixing a leak only to discover another leak a month later. Well we have the most cost effective and time saving solution for you. How nice would it be to fix your pond leak right the first time. This one coat process protects your pond and provides many more years of service and is backed by the only 5 year warranty in the industry.
PondPro2000 can be applied to the following surfaces:
EPDM Rubber Liners
Urethane Foam
Acrylic Sheet
For Concrete, Stone or non porous brick please use the pondpro Concrete